E-mail your Story today...
Circle of Trees---Clovis, New Mexico
My name is Elaine Martin and I live in Texico 8 miles west of Clovis, New Mexico. My step son, my husband and my step daughters have been there and the stories they tell will scare U to death!! There is so much going out there it's not funny. No one can stay out there without being hurt or the vehicles getting destroyed.
Thanks Elaine
Hoover Middle School

Hi I'm Bekka and I used to go to Hoover Middle School and so heres my story!

In the band room, if you are in there alone or with no adults, you can hear the piano playing and kids laughing.

But thats not all! If you are in the gym you can hear kids laughing and cheering and the basketballs fall off the shelfs!

And if thats not weird enough,doors like to open and close all over the school!

And in B8 you can hear kids resighting their multiplacation factors!

Thanks Bekka for the great story!
The Lodge in Cloudcroft, New Mexico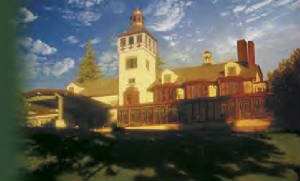 The Lodge at Cloudcroft, an 85 year-old inn contains the Rebecca Restaurant and Lounge. Rebecca's, once owned by Al Capone, was named after the young female ghost that haunts the Inn. Her portraits, including a stained-glass window, are scattered throughout the property. Several dozen employees and guests at this mountain resort have seen the apparition of a woman wearing a long dress, wandering the lodge halls. Rebecca was a beautiful, young maid with striking blue eyes and red hair, who was murdered by her jealous lumberjack boyfriend at the inn back in the 1930s when it was a lodge for the local loggers. Rebecca is called a flirtatious, mischievous spirit, who likes to use the telephone in Room 101, the Governor's Suite. Guests in that room sometimes receive phone calls from nowhere, and operators at the resort say that the line to Room 101 is often lit up, even when no one is in the suite. Rebecca's presence is also felt in the Red Dog Saloon, where ashtrays move by themselves and flames appear in the fireplace with no logs or other source of fuel.
St. James Hotel
St James Hotel
17th & Collinson, Cimarron, NM (505) 376-2664
Henri Lambert, a Frenchman who was the personal chef to President Abrahom Lincoln and General Ulyssess S. Grant. He built the St. James Hotel in Cimarron, New Mexico between 1880. Originally it was a gambling hall/saloon. The Hotel became a place of violence. It is believed by historians that at least 26 people died violently in this hotel. The hotel was a hang out for many gunslingers of that era such as Clay Allison, Blackjack Ketchum, and Jesse James as well as Wyatt Earp, Buffalo Bill and Annie Oakley. When the roof was replaced in 1901, more than 400 bullet holes were found in the ceiling above the bar. The building was remodeled into a hotel in 1985 with only some of the rooms available for rent. Many people will tell you that the hotel is haunted with many different ghosts.
ROOM 18: A nasty ghost is kept locked up in room 18. It is not known who the ghost is, but it is evident that this ghost does not like to be disturbed and will go as far as manifesting as a swirling energy field to keep people out. It is thought that this is the ghost of T.J. Wright, a man who won the hotel in a card game only to be murdered shortly afterwards. A search of the hotel's old register revealed a "T.J. Wright" was checked in the hotel.
ROOM 17: A gentler presence haunts room 17. It is thought that it is the ghost of Mary Lambert, wife of the original owner who died in this room while still young. Sometimes a drifting wave of fragrant perfume manifest in the room. No one has been able to identify the odor or its source.
Kitchen and Dining room: A friendly spirit, whom the owners have dubbed the Little Imp, likes to torment new employees in the kitchen and dining room. Described as a small man with a pockmarked face, the Little Imp has been known to burst glasses, relight candles and move objects in front of nervous new hires. Other reported activity includes lights that turned on and off, particularly the chandelier near the stairs, and chandeliers that move on their own accord. Cold spots can also be felt in various locations throughout the hotel.
Today the Hotel offers 12 restored rooms that are decorated beautifully with antiques. It is on the National Register of Historic Places.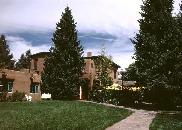 La Posada De Santa Fe
330 E Palace Ave, Santa Fe, NM (800) 727-5276
http://laposada.rockresorts.com
La Posada and the ghost of Julia Staab
On May 14, 1896, Julia Shuster Staab, died (Murder-Mayhem) in her mansion. The deed was done in her private quarters: bedroom-bathroom-parlor area. Her heirs eventually sold the mansion. In 1932 the mansion became a resort hotel. For over a century Julia's ghost has been seen by Santa Feans passing by the mansion or by the resort's guests and employees….
Julia has appeared in many forms, be it a ball of energy or a misty form that presents as a woman in her 40's with gray hair. Julia's hair turned prematurely gray when her young son died under mysterious conditions. Her child lingered for 48 hours before he passed on, during this time span, Julia's hair changed color. The child's death is blamed on her husband, Abraham Staab…..
According to some, Julia is a traveling spirit. She can be seen either at her tomb (Julia's grave is located at Fairview Cemetery in Santa Fe, the crossroads of Cerrillos and Cordova) or at her old mansion, La Posada. At La Posada, Julia's ghost appears in many places. Some place she can be seen are in the mirror on her old bureau and in front of her painting.
To read more on this story log on to http://santafeghostandhistorytours.com/ and you can also see the snapshots that have captured Julia's energy on Allan's private tours,
You can also read about HERE LIES ELIZA and THE SHACK OUT ON HWY 101 and see paranormal pictures on the web site http://santafeghostandhistorytours.com/. Be sure and check it out.
There is also a book that contains many more stories entitled "GHOSTS-MURDER-MAYHEM: A CHRONICLE OF SANTA FE" that can be ordered form the above web site.
Please submit stories to: Hauntednewmexico@aol.com